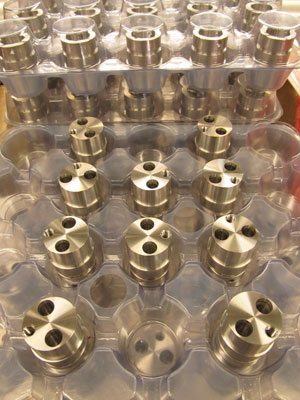 Our quality processes provide the necessary system flow that assures product quality and conformance to Customer print requirements and specifications. Our in process and final inspection procedures provide for a solid backdrop of assured compliance.
OUR QUALITY POLICY was developed by our President and founder and provides the basis for all that we do. Company Management and Company employees support and uphold the principles and spirit of this Policy. 
Think Quality, Think Swiss!
QUALITY in process inspection by machine operators and post production final quality assurance inspection by qualified inspectors, Supervisors, and Managers. Inspection equipment is calibrated to defined frequencies with masters traceable to national standards (NIST). Inspection equipment utilized in inspection operations includes hand held inspection tools, microscopes, optical comparator, tool makers microscope, and a coordinate measuring machine (CMM). 
Think Quality, Think Swiss!
"THROUGH SWISS PRECISION TURNING COMPANY'S CONTINIOUS IMPROVEMENT EFFORTS WE ARE ABLE TO PRODUCE AND DELIVER HIGH QUALITY PRECISION PRODUCTS THAT MEET OR EXCEED OUR CUSTOMER REQUIREMENTS."